Ah yes, Coming home for the holidays. Now this isn't, I'll Be Home For Christmas (hello, JTT 😍), but Just Friends actually earns it's way to the holiday romantic comedy list. I guess there was a reason for all those Comedy Central reruns!
The movie opens with Chris (Ryan Reynolds) heading over to a graduation party professing his love for his best friend, Jamie (Amy Smart). Of course, just as he's about to confess his feelings, several guys (oh look, it's Dusty) come in and out of her room to also profess their love to Jamie. After being humiliated by his peers and "friend-zoned" Chris runs away and doesn't return for another 10 years. We then see Ryan Reynolds in his post ~Van Wilder~ phase flirting and being a jerk to women. His trauma with Jamie has inherently turned him into a gross asshole. We can definitely tell what kind of person he's become solely on the introduction of my favorite character, Samantha James (Anna Faris). On his way to Paris with his eccentric ex-girlfriend/ annoying client, their plane crashes conveniently in New Jersey!
Coming home always brings feelings of nostalgia, but coming home for the holidays, especially adds another level of warmth and gives more space for hi-jinx, or as SAM EICHNER puts it,
"But what makes Just Friends a classic Christmas movie and not just a great coming-home movie is that the holiday serves as both an accelerant and a time constraint, allowing Chris to capitalize on the fuzzy feelings of old times and tradition Christmas engenders"
It's used as a motive to keep Chris in New Jersey, which in turn he takes advantage of all his Christmas traditions to get closer to Jamie. Christmas has a strong presence in this movie, which is not always the case in these holiday rom coms.
SAMANTHA JAMES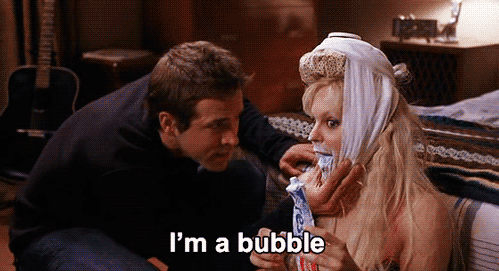 Samantha is an overbearing, vapid, promiscuous, obnoxious child. Anna Faris really plays her amalgamation of different real life pop singers so well that it's sometimes hard to look at. I think her performance is brilliant and probably what makes the movie so unforgettable. I mean, just watch her reuniting with Chris in the video below. Faris' portrayal of Samantha is so deliciously evil, yet you feel kind of bad for her. She's stuck in a crappy situation where everyone is actively neglecting her, but she's trying to make the most out of it.. you know by sleeping with Chris' kid brother.
JAMIE PALAMINO
I'm going to be honest. I think Jamie's character falls flat. Her existence is solely for Chris' character development. Being rejected in high school by Jamie in front of their friends turns Chris into a womanizing asshole. After he's reunited with HIS BEST FRIEND after TEN years of being away, he feels entitled to have a romantic relationship with her. The men in this movie refer to Jamie like she's something to claim. A prize. Not great. Where I really have a problem is toward the third act when Jamie tells Chris that she has not idea why it took her so long too "see it was him all along". She realizes all of this after Chris insults her (multiple times), after Samantha destroys her parent's house, after Dusty reveals his scheme to get back at her, etc. Also, don't really love that Jamie is essentially perceived as tease for "leading" Dusty and Chris on, but because Jamie isn't a full fleshed out character with a backstory of her own, it's never mentioned. Something just doesn't feel right. Sure, she might not be a completely submissive love interest, but there isn't depth to Jamie, which is a shame.
Another strong presence in this movie is the Romantic Comedy formula and tropes.
Boy sets out to win Girl

Beta friends (who in this case are married to each other)

A Deadpan smirker who comments on all the shenanigans (this role is shared by Chris and his disgusting little brother)

A Love Triangle (Jamie x Chris x Dusty x Samantha)
It hits all the usual rom com notes and it takes place during Christmas. This checks all the boxes! This deserves its place in the Christmas movie echelon. While you binge those Hallmark, Netflix originals, or another fave, 12 Dates of Christmas with Amy Smart! Don't forget to add this in your holiday repertoire.
I leave you all with this